Social media marketing opens the world to your business. Whether you are looking to build the best bakery in your neighborhood or open markets overseas, we'll help you decide on the best tools to optimize your social media marketing strategy.
When it comes to promoting your business on social media, the key is posting regularly (this can be once a day or several times a day, just stick to a schedule) and getting engagement. This means you'll need to share high-quality content that your followers will find helpful, interesting, or fun.
Getting people to see and interact with with your posts requires relevant images, links, and videos, along with well-written posts. You'll also need analytics tools to see what's trending in your niche, in addition to which posts do best, information about your followers, and the best ways to reach them.
Social Media Platforms, Beyond Just Facebook
Once upon a time, there was Facebook, and it ruled the social media marketplace, having vanquished its nemesis—MySpace. Now, there are a lot more options out there for businesses wanting to create a lucrative presence on the internet.
Facebook: Facebook's massive popularity, multimedia support, and business pages offer analytic tools you can take advantage of. If you've wondered about certain things, such as when most of your users are online or which of your posts are getting the most traction, you can find that information out with just a few clicks. Facebook also makes ads and paid promotion for your posts affordable and easy for reaching your desired audience.
YouTube: If you produce helpful, interesting, or humorous videos related to your business, and they get shared, you get free advertising. Not only that, you can also monetize your videos with paid ads for a new revenue stream. Even if you're not up for doing your own videos yet, you can begin building a following a YouTube Channel with videos that relate to your business and that your customers may find useful, interesting, or fun. For instance, if you sell gently-used baby clothes, gear, and supplies on eBay, a channel with helpful tips for parents and cute baby moments would help you attract followers who could possibly become customers.
Click here to watch this tutorial on how to launch a YouTube channel.
Pinterest: Pinterest is ideal for marketing products and services with visual appeal. Top categories include food and drink, do-it-yourself/crafts, home decor, women's fashion, weddings, and design. 500,000 businesses have Pinterest accounts, and for good reason. Kissmetrics notes Pinterest pins are "100 times more spreadable than a tweet" and have a half-life that's "16,000x longer than a Facebook post."
Twitter: Twitter's millions of users, searchability, and ability to grab attention with direct mentions and hashtags makes it easy to connect with people and be discovered. Plus, as Social Media Today notes, their ads are an excellent value. You can pay only for performance, and the low cost per click and features for tailoring ads to your audience are unbeatable.
Instagram: Instagram appeals to people who enjoy sharing photos from their smartphones, and like Pinterest, it has great engagement and visual appeal. While most of the top 100 Instagram accounts belong to celebrities, you can still build a niche for yourself.
For example, Rescue Pets of Instagram has over 200,000 followers and raises awareness while helping animals in need find their forever homes.
As social media expert Mike Marko explains, Instagram users engage with posts 15 times more than on Facebook and 20 times more than on Twitter. "Get your name out there," he exhorts. "Show people what they want to buy—from you—and build your brand recognition. 80 percent of Instagram users follow at least one business account, why not get a piece of that visual tool?"
Once you launch your accounts, make sure your handles appear on your business cards, ads, presentations, and other materials. Here are some helpful social media tips to get you started.
Scheduling: Your Ticket to Constant Content
Good social media posts create engagement. High quality, consistent posts build followings that take on a life of their own. To put posts out when you want them, and when the people you want to reach are online, are the biggest advantages of a scheduler. Facebook offers the ability to schedule posts, but when you're posting content on several Facebook pages and on other platforms, you'll need a scheduler.
There are many software choices out there to choose from. Here, we list two of the most popular schedulers for your comparison.
HootSuite: This is one of the best known and oldest names in social media management. HootSuite allows you to schedule posts across various media social networks and set up feed streams so you can see what is happening on those varied platforms; not just "see," but you can also analyze what's there and use that information to improve your social media scheduling. If you're running a small business with a shoestring budget, you can start with the free version.
CoSchedule: If you're a publisher—or have blogs for your products and services—and want your content to be fully integrated with your social media posts, CoSchedule's the way to go. This color-coded editorial calendar works seamlessly with common tools like WordPress, Google Docs, Google Analytics, Evernote, and popular social media platforms.
Sprout Social: Sprout Social's relatively new compared to HootSuite, but their product is exceptionally easy and intuitive to use. Sprout helps you work more effectively with your team to analyze and maximize the effectiveness of your social media marketing strategy. Sprout also makes it easy to schedule posts for different sites and pages, and even lets you set up time slots so your posts automatically go out at the right times with a single click.
Try These Tools for Eye-Catching, Shareable Images
Share As Image: This program is easy to use and a great way to make quick, beautiful, clear graphic with text overlay. All you need to do is find images that are legal to use or grab an image from their built-in stock photos, and hit the Chrome extension tool. You'll find a lot of different text overlay options to create a one-of-a-kind meme, ad, or cover photo.
Infogr.am: Need infographics or charts? This sweet tool will help you make high-quality, good-looking informational images in a matter of minutes. Other similar programs include Piktochart and Easel.ly.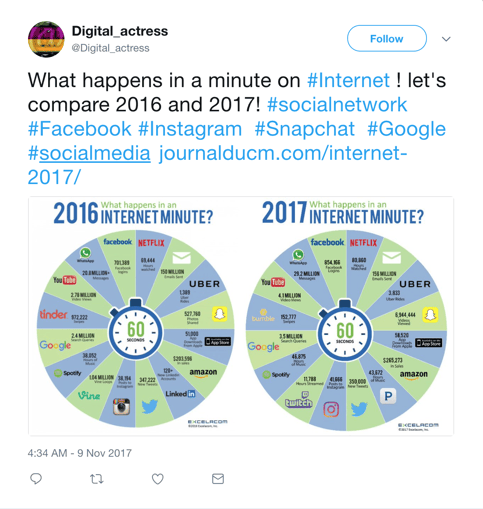 Tools for Well-Written, Error-Free Content
Grammarly: Grammarly's Chrome extension makes posting error-free posts as easy as typing them. Highlighting potential errors, Grammarly tells you why it thinks they are errors and allows you to fix them or ignore them. If you don't want to put out something that looks unprofessional or riddled with errors, there are both free and Professional versions of this software. Depending on how much you write, either option could be best for you.
Readable.io: This software offers a lot of upsides; you only have "7 seconds to grab someone's attention," according to their site. Grammar errors, overly complicated writing, and sentiment can affect that time heavily. Even a short post with multiple errors, the wrong tone, or too complex of a word structure can end your chances of winning over readers.
Found on Bluleadz, read the original The Best Social Media Marketing Tools to Promote Your Business here